There are those who dream of being a writer. We all know them—the ones who have always aspired to see their name grace the spine of a stately hardcover or shiny paperback, the romantics whose greatest love is to tuck themselves away for hours on end with their laptaps and journals, who write because they have to, because they can't imagine doing anything else.
Confession time: I'm not one of those people. Never have been. So how did I end up here, with six published novels (and counting!) under my belt? Quite by accident.
Origins
It was the summer of 2000. Life was good. I had a great job teaching high school English at Lyndon Institute, my alma mater, in northern Vermont and was hard at work on my master's degree at Dartmouth College. I'd finished up my coursework and was getting ready to dig into my thesis. I had a choice—I could do a traditional thesis, which would involve spending endless hours doing research in the basement of an old library, or I could do a creative thesis. You know, just sort of make something up. Easy choice! I actually wanted to write a book of poetry—my first love—but I didn't know any of the poets in the English department at Dartmouth, and when I approached a few about doing a thesis, they were all decidedly busy. Time for plan B.
The previous year I'd completed an independent study in dystopian fiction, followed that summer by a fiction writing course with the novelist Craig Nova. It was a great experience. I'd studied creative writing as an undergraduate at Middlebury with Jay Parini and had enjoyed writing fiction, so I figured why not combine my graduate studies and write a dystopian novel? In fact, I already had a short story I'd written in Craig's class called "The Seer" about a boy in a futuristic community of the blind who suddenly begins to see. It was a decent story but had the potential to become much more. Craig Nova was a good sport and agreed to steer me along. A year later, I had a master's degree and, more importantly, a 250-page manuscript titled Truesight.
The Big Break
After graduation, Craig said, "You know, this story actually has a shot at publication. Why don't you send it to my agency in New York? Maybe they'll like it."
A month went by. Then another. Finally, in July I put together a cover letter, sent it and the manuscript to Sterling Lord Literistic in New York, and promptly forgot all about it.
On September 10, 2001, I received a call from agent extraordinaire George Nicholson. He'd read the novel in one sitting on a long bus ride and was pretty excited about it. That got me excited. The future suddenly looked bright.
The next day two airliners struck the World Trade Center not far from Sterling Lord's office in Manhattan. As events unfolded in the aftermath of 9/11, George busily sent out copies of Truesight and drummed up interest from publishers. In the meantime, my wife and I discovered we would be expecting our first child in a few months. It was a surreal autumn, absorbing the shock of national tragedy while riding the waves of hopeful excitement on the personal front.
George asked me if I had any ideas for other books. "Sure!" I said. "Lots!" I busily got to work thinking of some other ideas. In the meantime, Susan Rich, a rising star at HarperCollins who'd brought Lemony Snicket to the YA scene, had taken a shine to Truesight. I put together a plan for a whole trilogy based around the concept, along with a proposal for a ghost story set in my native Northeast Kingdom of Vermont (which later became A Gathering of Shades). The next thing I knew, I had a four-book deal with a major publisher. I felt like the guy who buys a lottery ticket at the last minute because he happens to have a spare buck in his pocket and ends up winning the jackpot.
Panic Button
Once the confetti settled and I realized I had to actually write the damned things, anxiety followed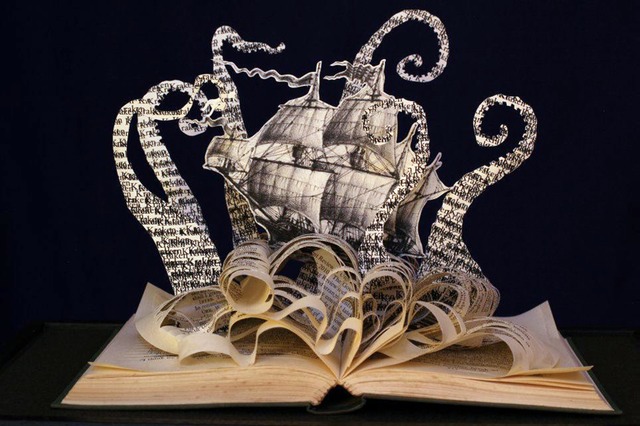 ecstasy. Truesight wasn't bad. I already had a manuscript. Susan was a talented and thoughtful editor. Soon the revision process was over and the book was in production. That was when the real fun began. I had a new baby, a full-time teaching job, and a whole slew of novels to write. I'd written one, but could I write more? What if they discovered I wasn't really a  "Writer"? I was plagued by the guilty feeling that I'd somehow pulled one over on my agent, my editor, everyone. It was all too easy. I hadn't come by it honestly—through years of dedication, sweat, and repeated rejection. I was a fraud. You know, the old imposter syndrome.
It was about that time that the panic attacks started. If you've never had one, the best description I can give is to imagine the feeling that you're about to die. It's quite unpleasant. Oddly enough, it took me a couple months to realize what the hell was going on with my body. Prolonged anxiety can take your brain to funny places along the way. Fortunately, I hooked up with a great therapist who helped me realize that I wasn't, in fact, crazy or in the process of a breakdown—I was just really, really STRESSED OUT.
Onward and Forward
I got squared away. Ten years later, I still have my moments, but for the most part I've learned to manage my stress, accept the challenges, and appreciate the rewards that come from all the hard work that goes into writing books. I made peace with the fact that, even though I didn't grow up with dreams of being a novelist, it's something I can do, something I'm good at. I even enjoy it most of the time.
But I'll always have a certain ambivalence toward the job. Make no mistake, writing has enriched my life on so many levels, but the secret truth is that writing is often a boring, tedious process. There are usually a dozen other things I'd rather be doing than sitting in front of my laptop for hours on end. And even though I sometimes envy authors who write eloquently at length about how the craft is their life's blood, something they must do, something that compels them, I've even made peace with the fact that it's only a part of my life, that it will never be my life. And maybe there's something to be said for a certain kind of detachment, even in creation. To write a book and let it go to make its own way in the world.
That's my story for now. We'll see what other accidents come my way.
Artwork: "The Kraken" by Justin Rowe