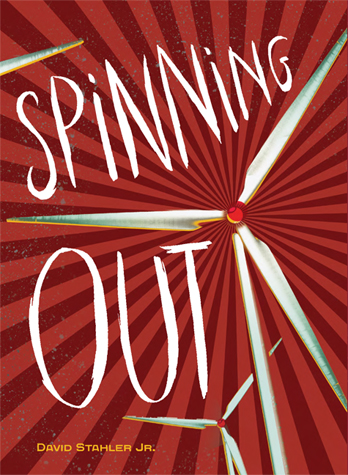 Frenchy has  few aspirations for senior year side from hanging out at the Smoking Rock with his best friend, Stewart. But Stewart has another idea—trying out for the high school musical, Man of La Mancha. It's the perfect setup for their most legendary prank ever, right? Wrong. Stewart is serious, and the guys in fact win the lead parts of Don Quixote and his sidekick, Sancho. Stewart's passion infuses the whole production, but his antics border on the obsessive. He insists on wearing his costume everywhere and rants incessantly about the new high-tech wind turbines overlooking the town. Frenchy worries that something deeper is going on, that something is seriously wrong. Can Frenchy, the perennial sidekick, step out of the shadows and into the limelight to save the play, his friendship, and Stewart before it's too late?
This compelling novel by David Stahler Jr. explores class, friendship, and the uncertainty of growing up in a voice that is funny, raw, and utterly unforgettable.
Critical Praise for Spinning Out:
"Stahler delivers a simultaneously uplifting and heartbreaking look at the dual toll grief and mental illness take on teenagers–both on the sufferers and on everyone around them. …The resulting denouement is chaotic and heart-wrenching." —Publisher's Weekly
"These teens have much more to them than meets the eye. The slow unraveling of their secrets provides insight into the often-complicated lives of adolescents bent on hiding their private demons from the world. Secondary characters…add depth to the story, and the adults exhibit a true desire to better themselves and/or to help the struggling protagonists. The relationships that develop between them and the boys add credibility. The narrative moves logically to its denouement, and the fast pace will keep readers interested in the conclusion. … A good choice for broadminded young adult collections." –School Library Journal
"Spinning Out is a compelling story with two main characters that most readers will care about and root for. …readers looking for a quality tale about high school buddies will be rewarded." –VOYA
"Stahler knows high-school boyspeak well, and both characters walk and talk like real teen boys who've known each other forever." –Kirkus
"Stahler, who teaches at Lyndon Institute and has written several previous YA novels, knows how kids talk and interact—no punches are pulled."–Seven Days.
What the bloggers are saying…
"This, my friends, is a beautiful book. It has many things to recommend it, starting with how genuine it reads. Not only with regards to the characters' voices (who do sound like teenagers and it came as no surprise to learn that the author is a high school teacher) but because it all comes across as realistic and honest and painful….Spinning Out is the best type of contemporary YA: the one that is both heart-wrenching and heart-warming. Totally recommended."–The Book Smugglers
"Spinning Out is mostly hilarious. It's not laugh-out-loud funny; it's more subtle than that. If this book were literary fiction instead of YA, it would be called 'intelligent humor.'"–Lucy Was Robbed
"Reconfiguring Don Quixote, Stahler finds inspiration not from the dreamer, but from the loyal friend, willing to push and bend himself for another's sake, admirable in his own right."–Guys Lit Wire
"Spinning Out shows friendship at its best and at its worst."–The Reading Junky
"In short, the characters are easy to relate to, the story believable, the ending unimaginable….all of which add up to a great reading experience"–Satisfaction for Insatiable Readers
On sale now at Amazon and Barnes & Noble
Amazon Hearts SPINNING OUT!
Kindle 100 selection, May 2012
Kindle Daily Deal selection, September 29, 2012
Kindle Holiday "Big Deal" Promotion, December 2013
Visit the SPINNING OUT Summer Blog Tour with Interviews, Guest Posts, and Reviews:
05/25/11 Reach Out
06/27/11  WORD for Teens
06/28/11  The Children's and Teen's Book Connection
06/29/11  The O.W.L.
06/30/11  The Hate-Mongering Tart
07/02/11  The Friendly Reader
07/05/11  Cracking the Cover
07/06/11  Mother Daughter Book Club
07/07/11  Satisfaction for Insatiable Readers
07/08/11 The Book Cellar
07/11/11 Teaching Books
Header image courtesy of Harman Clark